MS Teams Integration by Appvibe for Jira
The purpose of this Jira integration is to connect a Microsoft Teams account to your Jira account. After installing the app, you will be able to receive automated notifications about selected projects and events in one of your Microsoft Teams channels. This way you can make sure everyone on the team is notified about the state of your Jira tickets.
Getting Started
After installing the app, you can find it under Apps - Manage your apps. To connect your Microsoft Teams account, follow these steps:
Click on "Configure"
Click on "Add channel with Webhook"
Fill out the form with the following information Jira Project: by default, all of your Jira projects are selected. If you only want to get notifications about one project, select it from the dropdown.Title: enter a name for this connectionWebhook: to get the Webhook, in Microsoft Teams, search for "Incoming Webhook". Add to a team, then select "Set up a connector"Give the Webhook a name, then click on "Create"Finally, copy the URL from the field and paste it into the form
To configure your notifications, use the different tabs on the channel form. You can access and edit this form any time, by clicking on the "Configure" tab.

You can configure Jira Events, Filters, the Message Format and change general options. Make sure to save your changes before closing the form.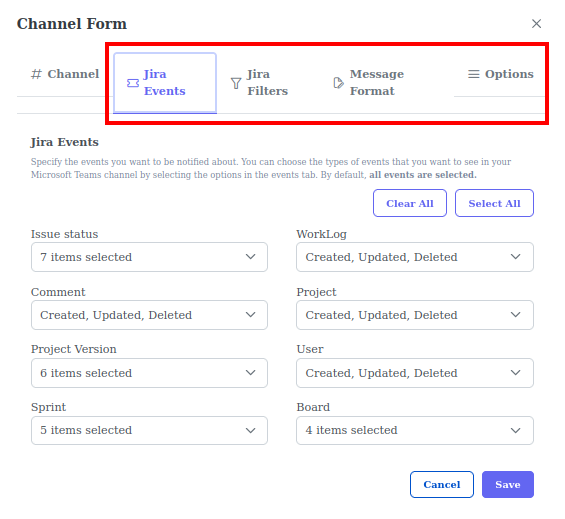 Release Notes
2023-09-05